Direct links
Sound Damping
Noxudol sound damping compound
Noxudol sound damping compound is used to reduce unwanted noises which arise from vibrations – so-called structure-borne sounds – in metal, plastic, glass fibre materials etc. Noxudol sound damping compound has a high damping factor despite its low weight/unit area, it has approximately half the weight compared with traditional asphalt mat, and is considerably simpler to apply.
Noxudol 3100/3101 has extremely good adhesiveness and flexibility in the cold. It has very good resistance to abrasion, absorbs very little water and can therefore also be used as a combination of sound damping and protection against condensation and wear under demanding conditions. The product has a rust proofing effect and can be coated.
Noxudol sound damping compound is water based and is easy to apply using spray equipment, brush or roller. Working time is reduced by up to 80% compared with traditional sound damping material.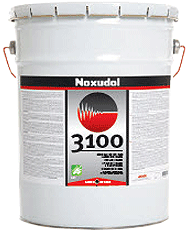 Who are our customers?
Customers include shipyards, train manufacturers, the vehicle industry, the ventilation industry and others with a need for effective structure-borne sound damping.