More information
Download our Dek-King brochure here
This brochure provides more information on Dek-King material, including decking, top rails and hand rails.
FAQ about Dek-King
If you have questions about Dek-King, click the above link – there's a good chance of finding the right answer. Naturally, you may also contact us by e-mail or phone.
Dek-King installation video
The following video demonstrates how to install Dek-King yourself. You may also order made-to-measure panels. Although they cost more, they reduce the installation effort.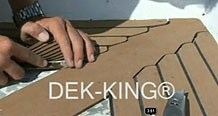 Play installation video